UNFPA: Delivering a world where every pregnancy is wanted,
every childbirth is safe and every young person's potential fulfilled.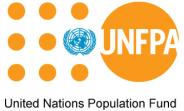 4 April 2017
Statement by UNFPA on U.S. Decision to Withhold Funding
UNITED NATIONS, New York, 4 April 2017—UNFPA, the United Nations Population Fund, regrets the decision by the United States to deny any future funding for its life-saving work the world over. This decision is based on the erroneous claim that UNFPA "supports, or participates in the management of, a programme of coercive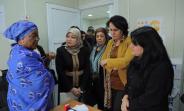 UNFPA supported centres in East Mosul. The video footage is from Ninewe Media Centre, an official centre.
UN Secertary General Visit to Hassan Sham Camp

CNN Report: Women Fleeing ISIL and the role of UNFPA Women Centres in Overcoming the Trauma
UNFPA Center helps women Traumatised by ISIL

UNFPA providing Psycho-social support to women and girls in Faluja, Iraq