You are here
Country Representative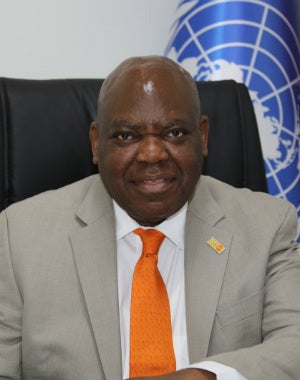 Dr Oluremi Sogunro
Dr Oluremi Sogunro, a Nigerian-American national, currently serves as the UNFPA Representative in in Representative to Iraq. He assumed official duties after presenting his letters of credence on Thursday 4 October, 2018.  
Dr Sogunro brings more than 35 years of international experience working in the medical and humanitarian sectors. He comes with extensive experience at UNFPA, WHO, PLAN International and other international and national health-focused entities. Dr Sogunro holds a Bachelor degree in Health Science, a Master's degree in Medicine from the University of Ile-Ife, Nigeria, a Master's degree in Public Health from the University of California at Berkley, USA, and a Diploma in Family Planning from Emory University, Georgia, USA.
Most recently, in his capacity as UNFPA Representative in Liberia, Dr Sogunro managed complex operations through his leadership, teamwork, and technical knowledge of refugee-related programming.  Before joining UNFPA in 2012, he worked as the Country Representative of the National Unity and International Co-operation (YGC) in Nigeria, and as the Country Representative at the Conseil Santé at the European Union Immunization project in Nigeria.