In wars and humanitarian crises, women continue to get pregnant and give birth in the absence of adequate reproductive health services which threatens their lives and the lives of their newborns. In wars and humanitarian crises, women are still women. UNFPA works to deliver a world where every pregnancy is wanted, every childbirth is safe and every young person's potential is fulfilled.
Yasmin is one of the thousands of women who have suffered from conflict-related sexual violence perpetrated by ISIL from 2014 until their defeat in 2017. From the onset of the crisis, UNFPA established the Women & Girls' Treatment and Support Centre to provide the necessary treatment as well as psychological and legal support to women and girls who managed to flee the terrorist group. The centre is currently sup...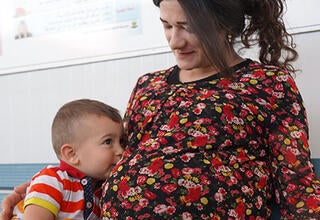 The European Commission has announced a contribution of EUR 2.5 million in humanitarian aid for UNFPA. With the new EU funding, UNFPA will be able to reach over 100,000 women and girls with life-saving emergency obstetric care and emergency supplies, including support to 23 health facilities in the central and western part of Iraq.
Events
No content available