DUHOK, Iraq – In crisis situations, the needs for shelter, food and security are rightly given urgent attention. Yet the specific needs of women and girls are too often overlooked. Some 1.8 million people are internally displaced in Iraq, and a total of 5.2 million people are in need of humanitarian assistance. Among them, women and girls have heightened needs – including a heightened need for protection from gender-based violence and special health and hygiene needs.
UNFPA is working to meet these needs, providing safe spaces for women, psychosocial support for victims of violence, and sexual and reproductive health services for women and girls. UNFPA is also distributing thousands of dignity kits – which contain hygiene supplies such as toothbrushes, toothpaste, shampoo, soap, sanitary pads and underclothes – to women and girls of reproductive age.
"Basic needs for every woman"
Maintaining proper hygiene is a common problem in displaced communities. "I take shower with water alone – with no shampoo or any sanitizer," said Ansam, 26.
She and her three young children were forced to flee their home in Bashiqa when fighters of the Islamic State of Iraq and the Levant (ISIL, also known as ISIS) approached the town.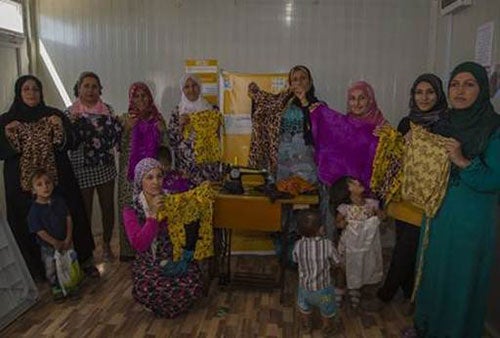 They left in the middle of the night, when she was in only her pajamas. For a month and a half, these were her only clothes. "It is hard to stay healthy," she said.
But she also noted that women's hygiene needs were going unmet.
"I need pads, underclothes, shampoo. This is not luxury… They are basic needs for every woman," she said. Purchasing feminine hygiene products and the other supplies to maintain her health was "impossible," she added.
Ansam is now staying in a school that has been turned into host site for displaced people in Duhok, northern Iraq. She says she was relieved to receive a UNFPA dignity kit containing these essential supplies.
Winterization
The dignity kits offer more than the basic necessities. They are also a vital opportunity for UNFPA staff and partners to meet displaced women to assess their well-being and raise awareness of the reproductive health services and counselling programmes being made available.
Since June, UNFPA has distributed 18,000 dignity kits to displaced women and girls of reproductive age.
But as the crisis in Iraq escalates and more people are displaced, the needs are growing rapidly. Winter is approaching, and many displaced families are without heavy clothes or blankets.
"We want to be warm in winter," said Bervan, a 45-year-old grandmother who also fled Bashiqa with her family.
UNFPA is now preparing to distribute winter clothes with the dignity kits. For pregnant women, the kits will also contain warm baby clothes.
And in partnership with UN Women and a local non-governmental organization, UNFPA is supporting safe women's spaces where displaced Iraqi and Syrian women can learn to make these warm winter items, which they can then sell to UNFPA.
In its 2014-2015 response, UNFPA is planning to procure and distribute at least 95,000 dignity kits.
"We lost our house in Bashiqa, our money," Bervan told UNFPA. "We do not want to lose our dignity."