Erbil, Iraq, 6 June 2016 – The United Nations Population Fund has successfully initiated its Reproductive health  services as well as its Gender Based Violence response services to support more than 5,000 returning families to Sununi sub-district in North Iraq.. UNFPA has supported the existing maternity centre with equipment including delivery beds and key drugs. UNFPA will be further upscaling this support starting July. The UNFPA implemented women's centre, supported by the Norwegian government, remains a key rallying point for women and adolescent girls from Snuni and nearby village collectives to access GBV response interventions.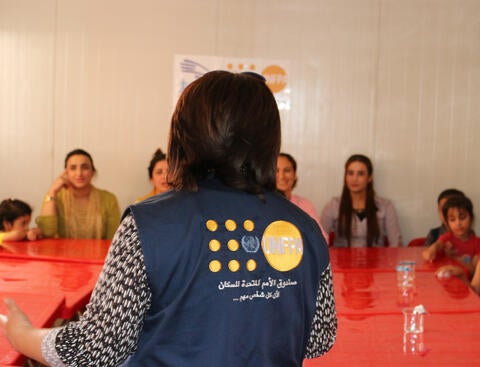 Sununi is a sub-district of Sinjar district, is one of the biggest sub-districts in Iraq, in Nineveh Governorate, North of Iraq. Prior to the current Iraq crisis, Sununi was a home for over 120,000 individuals, who were displaced after the armed conflicts started. During the armed conflicts and after ISIS took control of the area, Sununi was extremely affected by the crisis, hundreds of lives were lost and the main infrastructure for the basic services were severely compromised which affected the public services especially health and education. Following the liberation of this area, over 5,000 Families, including more than 17500 woman and girl, have returned to Sununi, their home.
During the recent visit of the UNFPA Representative in Iraq, , Mr.Ramanathan Balakrishnan to Snuni, he highlighted that UNFPA will continue to work hand in hand with the local community providing the needed support to women and girls through the newly opened Sununi Women Center. The Center will be providing a wide range of services including Dignity kits distribution, Gender Based Violence response, awareness raising activities on GBV and reproductive health as well as engaging the women and girls in recreational activities. During its first 3 weeks, more than 150 woman and girl benefited from the services provided in the Sununi Women Center, through which more than 165 awareness sessions were conducted on issues including the consequences of the early marriage, GBV & Hygiene promotion as well as on the different services provided in the women center and the Reproductive health clinic. The center also hosted 10 recreational trainings and organized a number of sport events for the women and adolescent girls among other interventions.
Sununi currently hosts more than 4350 women in reproductive age among whom around 1200 are currently pregnant. The newly opened reproductive health clinic and delivery room operated by WAHA and supported by UNFPA through equipment and drugs, will be providing services including, 24 hours operational delivery room during weekdays;  as well as, pre and postnatal care consultations, gynecological consultations, and family planning services. During the first three weeks of its operation, the clinic and delivery room team has successfully operated on 19 safe deliveries at an average of 6 deliveries per week, and has conducted several awareness raising visits to the local community on the services provided in the clinic as well as the availability of the delivery room. The UNFPA implemented Women's centre is a key node for RH awareness activities in Snuni.
******
UNFPA, the United Nations Population Fund, delivers a world where every pregnancy is wanted, every childbirth is safe and every young person's potential is fulfilled.
For more information or media inquiries please contact:
Mohamed Megahed; UNFPA Iraq Communication Officer; megahed@unfpa.org