Young people in Iraq are facing constant hurdles. A lack of livelihood opportunities and limited possibilities hinder their ability in striving to lead the development process in their country. On this International Youth Day, the United Nations family in Iraq celebrates individual initiatives by young women and men, to support communities through the pandemic. Today, we celebrate the potential and role of these young women and men as the engine of change in society, and the key to leading the country to a better future.
Volunteering for communities
Hasan is a 24-year-old freelance journalist from Diwaniyah, Qadissiya governorate. Helping his community has always been his passion. In 2017, he became a Peer-Educator with the UNFPA-supported Y-Peer network - helping spread awareness on sexual and reproductive health and HIV prevention, as well as human rights and gender-based violence through peer-to-peer education.
Given the ongoing curfews, many people in his community were unable to meet their basic food needs. Despite the lockdown, Hasan mobilized a team of young volunteers to help provide boxes of healthy, fresh vegetables to 7,000 families in his community in Diwaniyah.
"With other volunteers, I managed to transport boxes of vegetables to vulnerable families, giving them the necessary ingredients to cook a meal without risking their lives to go to the markets. Helping people reminds me that when we join hands and stand together, we can get over the difficult times".
Hasan is proud of being part of this initiative, as he not only helped families but also local Iraqi farmers, who could continue to make a living and sell their produce, even during the pandemic and all its challenges.
UNFPA works on empowering young people, like Hasan, by building their peace-building and leadership skills to better engage with their communities.
Fundraising for communities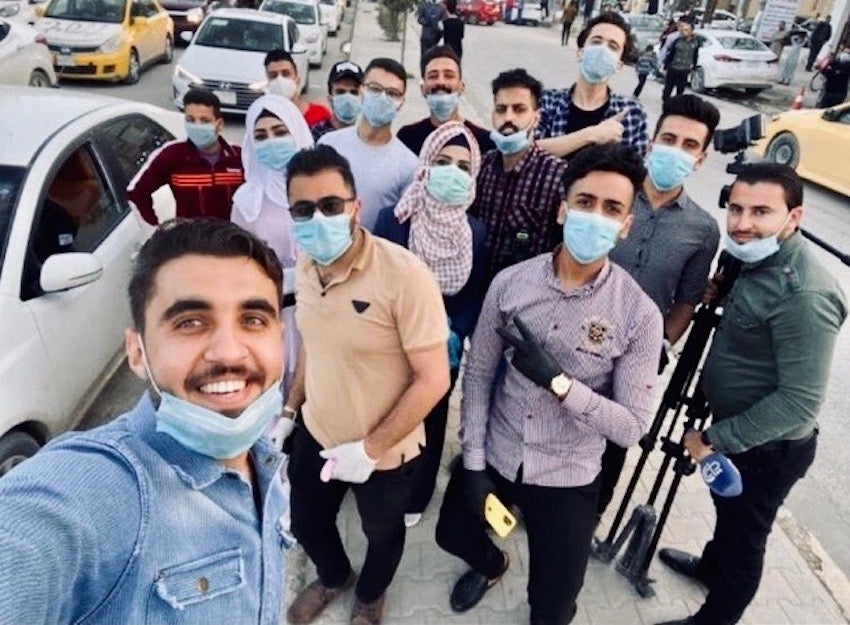 Abdullah (holding a yellow phone) is 19 years old and lives in Anbar governorate, Iraq. COVID-19 has affected his community with almost 500 cases confirmed so far. Abdullah started raising awareness in Ramadi, Anbar governorate after the report of the first COVID-19 case. He got together with other young people and together they ran an awareness-raising campaign in collaboration with the Anbar Health Department to disseminate brochures and key health messages on COVID-19.
So far, they have distributed 1,500 masks, 400 boxes of sanitizers, and 250 boxes of gloves in their community. Following a virtual meeting, they fundraised to buy food and essential needs for poor families in their neighbourhood. With this, they managed to distribute 450 food baskets plus small funds to sustain the families for a period of 2 months.
"It indeed gave me the sense that we can make a difference in our communities especially when I see the smiles on their faces when we hand over the supplies", Abdullah says.
UNICEF supports young people like Abdullah throughout Iraq to access skills-building programs and promote them as agents of change in their communities.
Leading for communities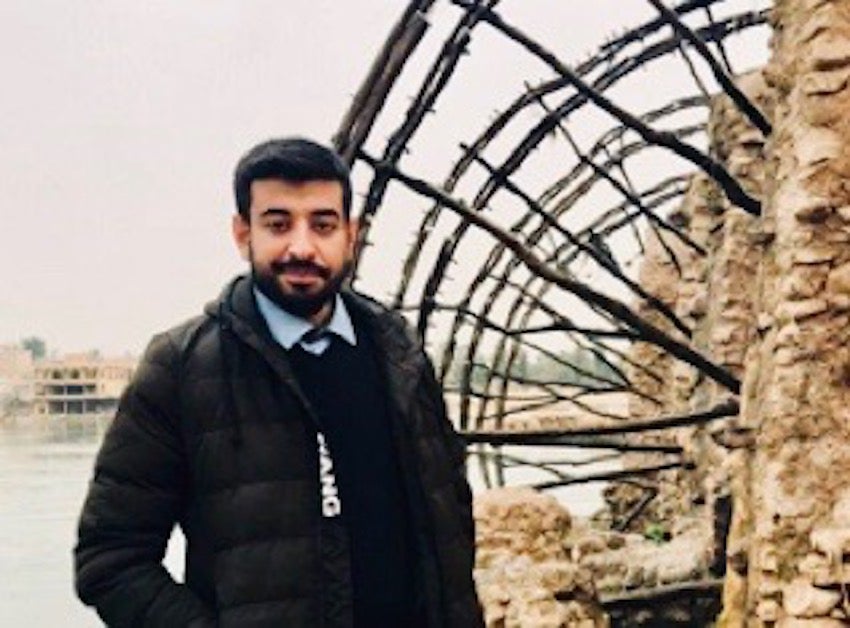 26-year-old Noureddine is a master's student in the Geoscience Department at the University of Baghdad and a civic activist in Anbar governorate. With the spread of COVID-19 in Iraq and the imposed curfew, Noureddine is part of a group of activists who provided support to low-income families in the region. Noureddine's role as a group coordinator is organizing online meetings to brainstorm, discuss and agree on the ideas for initiatives.
"The idea that I am working to achieve a noble goal makes me feel I have a task in this life to fulfil. I remember when I helped others to start the first cultural park in Anbar. These same parks and public spaces used to be training sites from ISIL militants. They were places to urge extremist ideologies and we turned them into places of enlightenment and culture," says Noureddine.
As coordinator for UNDP Iraq's youth and women peace groups in Anbar, Noureddine helped design community-based initiatives to raise awareness about COVID-19 encouraging preventive health measures and promoting coexistence and social solidarity.
UNDP in Iraq focuses on empowering youth by enhancing their participation in decision-making and building their confidence to better engage with communities and local authorities.
Educating for communities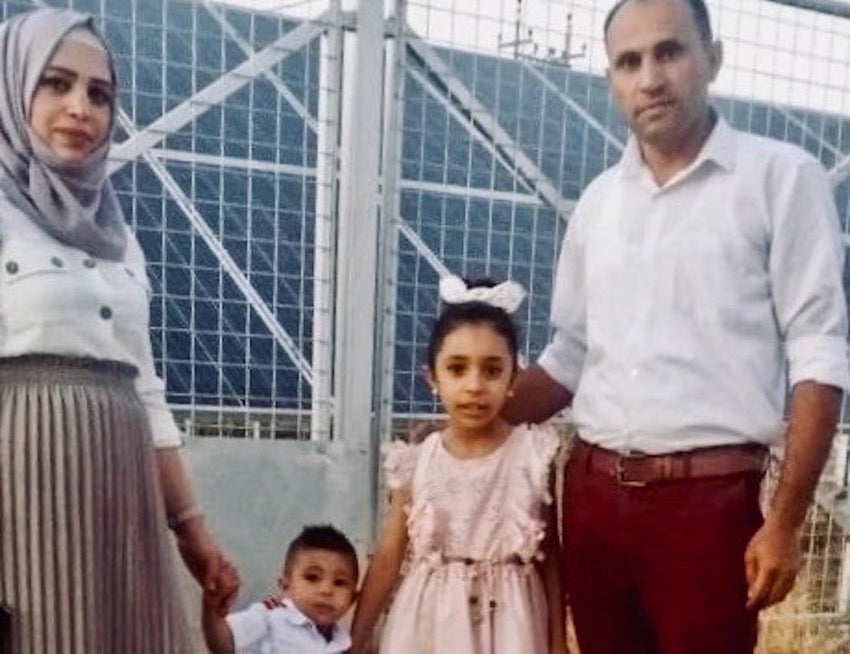 Hadiya fled her hometown in northeast Syria seven years ago due to the conflict. Soon after, she fell ill with leukaemia. With treatment, and support from her family, she regained her health and went on to have two healthy children. It is something of a miracle to have recovered.
"It hasn't been easy, with security problems, my health… and now the coronavirus. It has been one thing after another. But we have been lucky overall — I remember this every single day."
As well as bringing up her young family and teaching part-time online, Hadiya volunteers on an education programme for teenagers in the camp, on subjects in which they were struggling. She also works to raise awareness of refugee experiences and life in the camp. As well as doing media interviews, Hadiya has spoken with a classroom of schoolchildren in London via Skype, sharing her community's stories.
Hadiya remains positive: "I'm looking forward to new beginnings… With good health, and better times for everyone. I never give up."
WFP supports families such as Hadiya's with monthly cash assistance to help meet their food requirements, alongside providing digital skills and English training for youth through the EMPACT "Empowerment in Action" scheme.
 Photojournalism for communities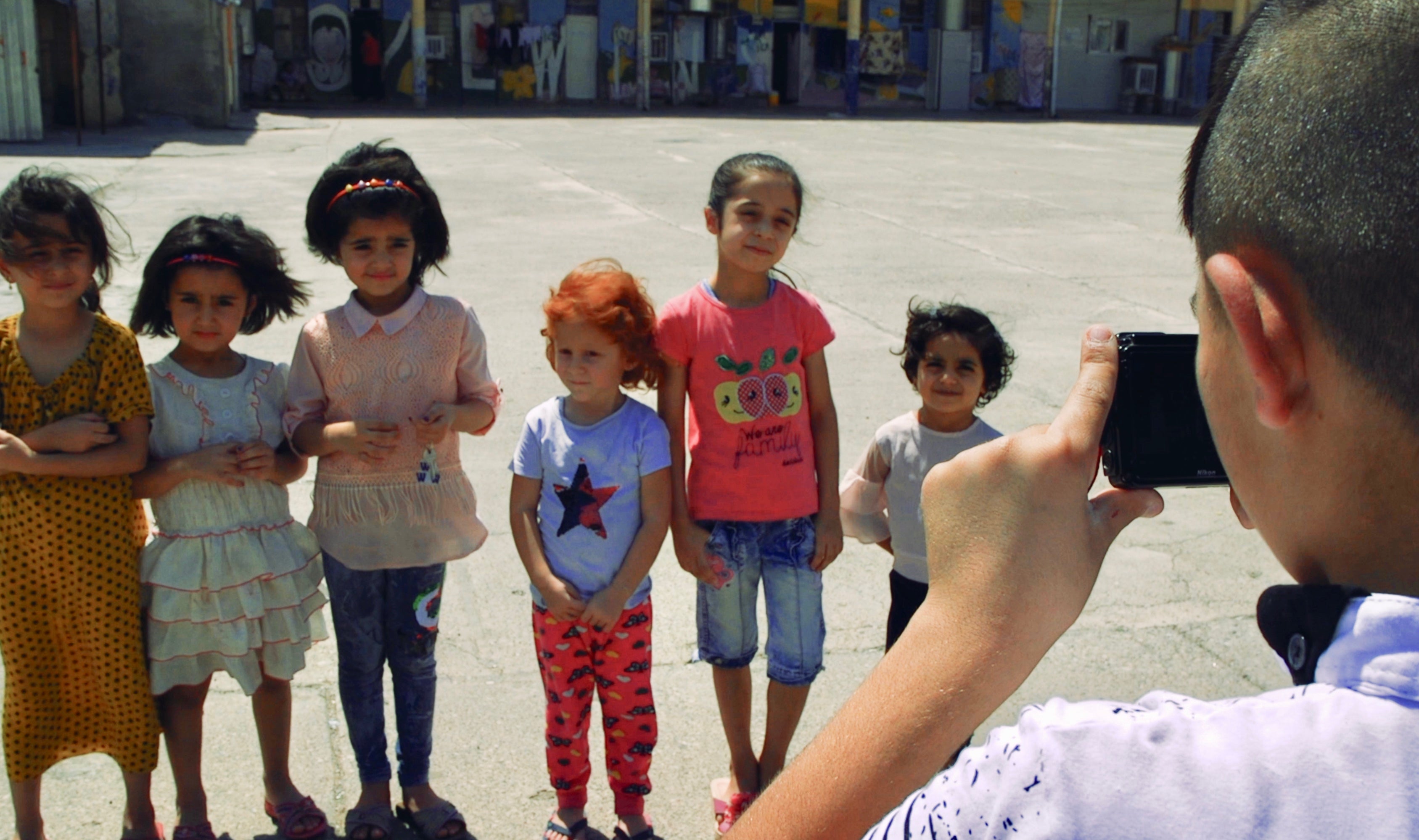 Meet Murad, a young refugee with a big dream. Syrian refugee, Murad took his first photo at age eight, when a journalist visiting Akre camp where he lives lent him his camera. From that moment on Murad had a dream; to be a professional photographer, to help refugees by telling their stories with photos and to travel the world. "Photos can tell stories that you cannot normally describe by words. Sometimes you will not believe a story until you see it.", Murad said. At 12, Murad doesn't leave the house without his camera he had been gifted by the journalist. Murad excels at school and spends his spare time taking photos of events and people around him, documenting his life as a refugee with photos.
UNHCR and partners support youth by providing them with education, recreational activities, remedial classes and opportunities to learn, train and prepare for a better future.
Painting for communities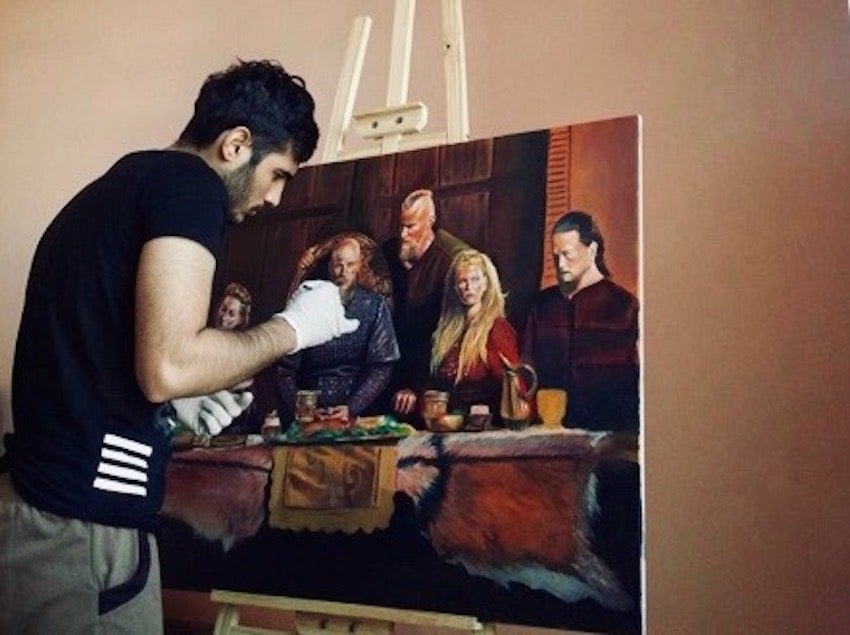 As global populations continue to adapt to living the "new normal" of enforced curfews and shutdowns amidst the COVID-19 pandemic, 28-year-old Mustafa is finding ways to carve out creative paths to nurture his artistic talents.
Hailing from Tuz Khurmatu in Saladin Governorate, Mustafa is passionate about the creative arts and is using this period to learn new skills such as sculpting, playing the flute, and honing his talent in painting. He has developed an online platform through which he guides young painters on their techniques and strokes. He is eager to transfer his expertise to others and continues to study at the College of Fine Arts - University of Baghdad.
His message to the youth of Iraq is "hold on to your dreams and practice the kindness of sharing and giving back to others", adding that our paths may not always be smooth like walking on a bed of rose petals, but rather our pathways may be laden with bumps and adventure. "Do not worry about the obstacles", Mustafa advises, "with patience and hard work you will eventually get there".
The UN in Iraq works towards advocating and implementing youth projects in Iraq.
-----